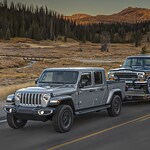 If you appreciate the convenience and versatility of mid-size pickups and you're looking to add one to your garage or driveway, the Jeep Gladiator is bound to appeal to you. Don't hesitate to come by our showroom here in Shawano, WI when you have time to take one of these popular trucks out for a personal road test.
Although the Gladiator is a relatively new offering from Jeep, it's already received recognition for its excellent design and abundant amenities. The easy-to-load bed and generous towing capabilities make it a handy vehicle for work, camping, towing, and more.
An array of trim packages and optional accessories will allow you to personalize your Jeep Gladiator to suit your unique needs. You can take advantage of the latest in automotive technology, add on extra features, and select a cargo management package that keeps everything securely in its place.