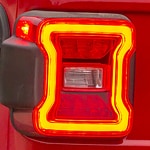 The newly revealed Jeep Wrangler offers some of the most exciting exterior features found in popular compact SUVs today. These features are unlike anything that you can find in comparable models, which explains why the Wrangler continues to be a top seller.
Where else can you get a compact SUV that has removable doors and windows, for example? You can easily take off the doors and windows to create an entirely open cabin. You are exposed to the fresh air and sunshine while driving. You can even remove the top of the Jeep Wrangler if you prefer. It comes equipped with a soft top. However, you also can buy a hard top for your Wrangler. These two tops switch out easily, letting you customize your ride each time.
The Wrangler comes standard with heavy-duty 17-inch wheels. You have the option of upgrading to larger tire sizes to get a better ride.